Research Article
APPROACHES TO SUSTAINABILITY EXAMPLES FROM GEOGRAPHY TEXTBOOK ANALYSIS IN GERMANY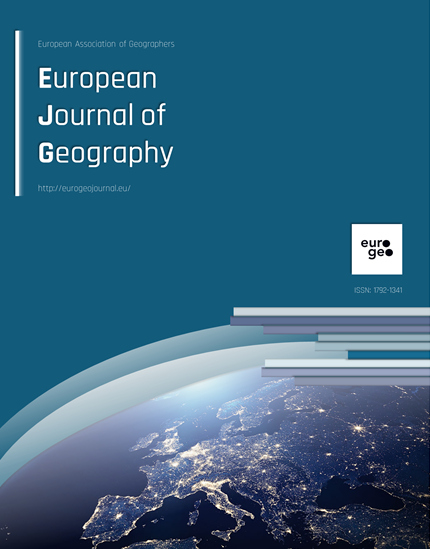 Published 2021-10-05
How to Cite
BOEHN, Dieter, and Berta HAMANN. 2021. "APPROACHES TO SUSTAINABILITY EXAMPLES FROM GEOGRAPHY TEXTBOOK ANALYSIS IN GERMANY". European Journal of Geography 2 (1). https://www.eurogeojournal.eu/index.php/egj/article/view/34.
Abstract
Education for Sustainable Development is a key concept in Geography instruction in Germany. The present contribution investigates how this concept is conveyed in Geography textbooks. Methods used include both quantitative and qualitative analysis as well as meta-level analysis. The quantitative investigation of 28 school textbooks revealed that sustainability, sustainable development und "sustainable" as a modifier (for example, sustainable tourism) are only rarely mentioned. By contrast, numerous examples can be found that include the topic of sustainability without explicitly stating the term. Seven topical fields (examples include tropical rainforest, renewable raw materials, the city of tomorrow) are used to illustrate various solutions ranging from simply doing without up to sophisticated technical solutions. In these examples, sustainability is often equated with environmental education, the aspects of economics and society are dealt with to a lesser extent. The contribution closes with the call for a new system of values, which no longer uses economic growth as the primary indicator of the quality of life.
Downloads
Download data is not yet available.