Research Article
Long-term trends and recent upturns in regional mortality variations in Greece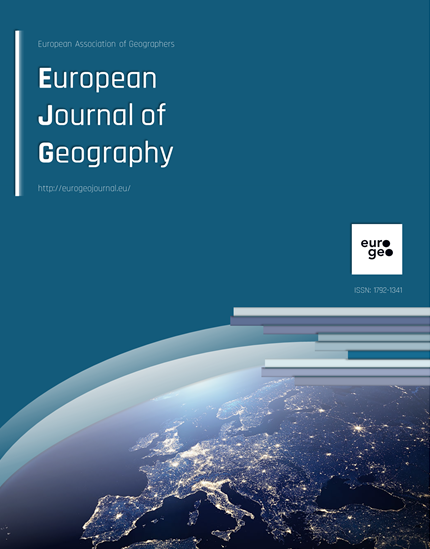 Published 2022-01-30
Keywords
Standardized Mortality Rate, Infant Mortality Rate, Administrative divisions, Physicians per 100,000 population, Regional variations, Official statistics
How to Cite
GAVALAS, Vasilis S. 2022. "Long-Term Trends and Recent Upturns in Regional Mortality Variations in Greece". European Journal of Geography 9 (1). https://www.eurogeojournal.eu/index.php/egj/article/view/99.
Abstract
Great regional variations in mortality within a country reflect unequal social and economic development and an ineffective health system. On the other hand, small mortality variations from one region to another indicate more homogeneous development and a relatively equal access to the national health system. Greece has made remarkable progress in this respect over the last 35 years. The current paper documents this progress in two ways: firstly, by inspecting regional variations in infant and in general mortality from 1981 onwards and second by associating indexes of economic and social development of each region with its level of mortality. A gradual convergence of the mortality rates across the country and a consequent de-association of the per capita income from the mortality level of an area point to a more effective welfare system over the examined period. The only ambivalent period is that of 2009-2014, where no progress is recorded in infant mortality, probably because of the cuts in public health spending, stemming from an acute economic crisis which started in
2009.
Downloads
Download data is not yet available.